Ya can't keep a good man (or his pub) down.
When Hurricane Irene visited Cranford, NJ, in 2011, she was not only unwelcome, she was downright rude. Devastating, to be exact, for Barry O'Donovan, who saw his precious pub filled with water from the basement to the first floor.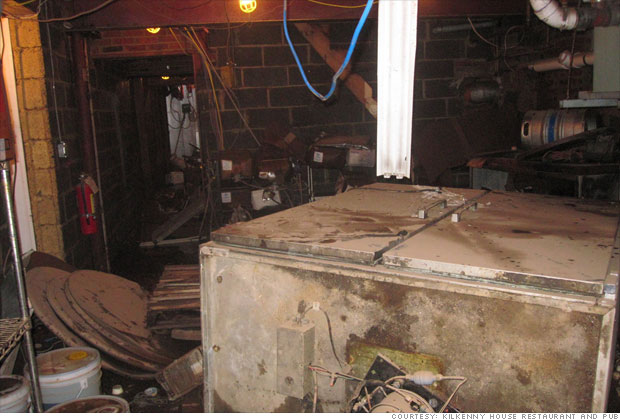 Flood insurance might have helped, but as O'Donovan's pub was not in a flood zone, he had none.
Yet with the true grit of an Irishman--and a lot of help from his friends, O'Donovan had the Kilkenny back up and running in record time. His faithful patrons came out to celebrate what was dubbed "
The Hoolie Sans Poolie.
"
Such a comeback celebration requires more than just one evening, however. O'Donovan and staff will be taking six days this September to celebrate the pub's anniversary. The celebration, which starts on September 12, will culminate with a "Half-Way to St. Patrick's Day" bash on September 17 that will feature Irish Step-Dancers, corned beef and cabbage and live Irish music by Dave McBride starting at 7 PM.
Barry O'Donovan
"We have been so fortunate in the way Cranford has supported us," said Barry O'Donovan, owner of The Kilkenny House, which is located at 112 South Avenue East, across from the Cranford train station. "In turn, we have tried to help others in the community whenever we can by hosting fundraisers for breast cancer research, Eagle Scout projects, local sports teams, and music education. Our fifth anniversary is not only a celebration of our little pub, it's a celebration of the vibrant community we have in Cranford, New Jersey."
The PubScout and Barry O'Donovan
In its five-year tenure,
The Kilkenny House
has become a favorite of residents and non-local elbow-benders alike--yours truly included. One of the standards I set for a pub--besides its selection of beers and general ambience-- is, "Is it worth driving to?"
The answer should be clear.
So it is with the wind at my back, the rain falling softly on my fields and the sun shining warmly on my face that I will be at Kilkenny House on September 17 to participate in a most uplifting night.
And my pint glass will not be the only thing uplifted.
May we always be happy. And may our enemies always know it.
Cheers! The PubScout