Bartender Casey
Scott Van Guilder just keeps raising the bar. The Beer Bar, that is.
Hard on the heels of a
successful Blind Tasting
and a full blown
Beer Dinner
, the manager of the Office in Bridgewater arranged for a Tap Takeover on the night of the Winter Solstice.
Having friendly, beer-savvy bartenders like Casey (above), who cut her beer teeth in
Bermuda's HogPenny Pub
at age 12, might have had something to do with the fact that the place was pretty crowded with both its normal Friday night clientele and an influx of Craft Beer lovers. Some folks, like homebrewer Rich who was seated next to me at the bar, fell into both categories. Rich and his buddies were pressing Van Guilder to turn up the volume on the Christmas music, and Van Guilder obliged. Others, like beer nut Gregg Zizza, were there to sample the beers, as beer nuts are wont to do.
Gregg Zizza
But the music and Casey weren't the only things bringing good cheer. A lineup of excellent beers, mostly from Sam Adams, helped in that area. SA offered its flagship Lager, Rebel Stout, Merry Maker, Just IPA, Winter Lager and Angry Orchard Crisp Apple Cider. The affable and knowledgeable SA rep Brandon also came bearing gifts in the form of those special Sam's glasses, hats, shirts and churchkeys.
If you knew the rep (as I confess I did, having met Brandon at other beer events), you might also have had the chance to sample some as yet unavailable Rebel IPA. And though IPA's are not my usual winter go-to fare, this Rebel was actually quite tasty and very smooth. An excellent nose, not-crazily-hopped taste and an exceptional finish will likely make this one an SA winner when it does come out. It is decidedly different than the SA Just IPA which was being offered, too.
But for my money, the Merry Maker (or Merry Mischief) at 9% fully lived up to both of its names.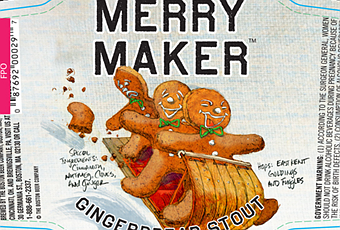 Of course, Sam wasn't the only one at the party. Yard's sent its wonderful George Washington's Tavern Porter, and Great Lakes put forth its Christmas Ale for the event, which necessitated removing the Edmund Fitzgerald that occupied the tap previously.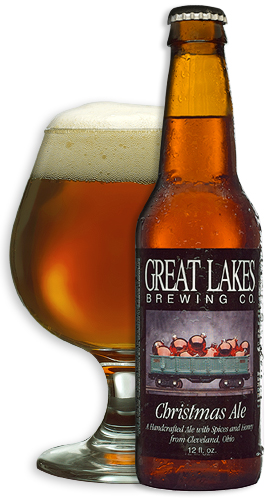 The Christmas Ale, a copper/golden spiced ale, carried distinctive spice flavors of ginger and cinnamon (some might suggest even cardamom) and had a nice spicy, almost peppery finish. None of the flavors in this 7.5%-er were overpowering, but they worked together in an great balance.
And as though those beers weren't enough, the delightful Kim was walking around with samples of a tequila called Cabo Wabo. I'm not a big tequila drinker, either con (with) or sin (without) gusano (worm), but this coffee flavored concoction would make a superb after dinner drink.
Kim puts Gregg in a trance...
The point of this event was to allow Van Guilder to show his current beer-loving clients and those to come that he not only knows his beer, but that he is embarked upon a mission to let beer lovers know that The Office is a real beer destination.
Considering the increasing frequency of my own visits, he's clearly sold me.
Cheers!
Merry Christmas!
The PubScout