If you ask Gregg Hinlicky to draw you a pint today, you probably wouldn't be able to drink it. That's because Hinlicky is better known in NJ beer circles as The Brewer's Artist. He's drawn excellent pictures of beers, brewers at work in their natural elements and beer related stuff for--lo--these many years.
His hoary, albeit handsome, face even graces one of Climax's Beer Bottles. In fact, one of his works features Dave Hoffman and dad Kurt hard at work in the brewery.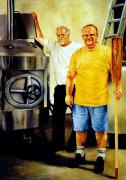 But if you ask him to draw you a pint in 2014, you might actually get something you can drink. Because Gregg is launching a new Jersey Brewery at the Jersey Shore called
Bulkhead Brewing
. Not only that, you could become a ground floor "part owner."
Check out the link at Bulkhead Brewing for more info. Even though he deigned to put my face on canvas (claiming he doesn't do "Neanderthals"), the PubScout wishes Gregg & Co. all the best in this new venture.